Florence Latin Jazz goes classical (but just a little!)
Date: Sunday 03rd February 2019
Time: 7pm
Venue: Florence Works
Location: 34 Florence St, London N1
Artists: David Johnson - Violin Tania Lisboa - Cello Elizabeth Mucha - Piano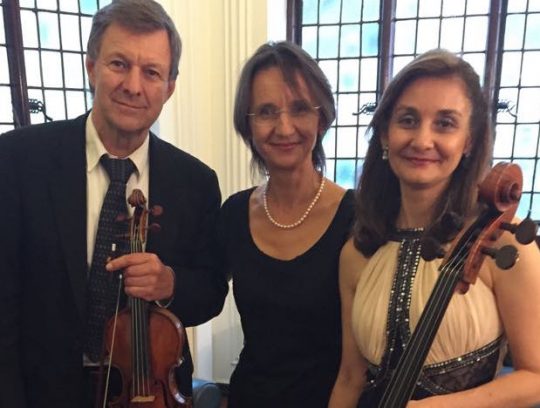 I'm delighted to be performing a fun programme of solos, duos and trios with my long standing duo partner, cellist Tania Lisboa and violinist David Johnson at the home of concert promoter and my great friend, Alison McGowan, on Sunday 3rd February as we open the 2019 Florence Latin Jazz series.
Our focus is primarily on the Brazilian composer Heitor Villa-Lobos who died 60 years ago in 1959, and has been described as "the single most significant creative figure in 20th-century Brazilian art music". Not only was Villa–Lobos' output prolific, – he composed over 2000 pieces – but was capable of writing hugely complex works as well as simple short pieces. We will play two movements from the ambitious 1st piano trio, from 1911, and the 1st violin sonata, 'Désespérance', composed two years later.
Villa-Lobos was a cellist and, for a short time, he supported the family by playing in cinemas and theatre orchestras in Rio. Indeed, some of his most memorable pieces were composed for the cello. In these two short, but very descriptive, pieces for cello and piano, 'O Trenzinho do Caipira' (The little country train) and 'O canto do cisne negro', (The black swan), which Tania and I will play, we can truly identify with the Villa-Lobos sound which has carried his works worldwide. Of course, no concert of Brazilian music would be complete without the aria from Bachianas Brasileiras no 5, scored originally for 8 cellos and voice.
We'll also explore the impact that the music of Brazil had on the French composer Darius Milhaud with three solo piano pieces from his suite, 'Saudades do Brasil'. Not only Brazil but also the jazz and blues sounds that were coming out of America were weaving their way into the music of European composers. Maurice Ravel visited New Orleans in the 20s and was so taken with jazz that he even went so far as to urge America, 'to take jazz seriously'! The 2nd movement of his violin sonata No 2 is simply named, "Blues".
David and I played Brazilian composer, Raimundo Penaforte's brilliant arrangement of Bernstein's West Side Story back in August at Florence Works. By popular request , we've dusted it off, practised, and the fingers will be ready to spring into action (especially David's!) on Sunday 3rd February!