Words and Music
Date: Saturday 22nd April 2023
Time: 12.30
Venue: Waltham Abbey
Location: Abbey Farmhouse, Abbey Gardens, WALTHAM ABBEY, Essex, EN9 1XQ.
Artists: The London Piano Duo Elizabeth Mucha and Nigel Foster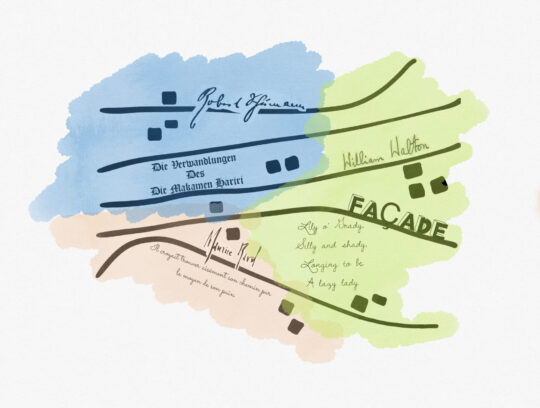 Robert Schumann – Bilder aus Osten (Pictures from the East), Op 66
Lebhaft
Nicht schnell und sehr gesangvoll zu spielen
Im Volkston
Nicht schnell
Lebhaft
Reuig andächtig 
Maurice Ravel – Ma Mère L'Oye (Mother Goose) 
1) Pavane de la Belle au Bois Dormant (Pavane of Sleeping Beauty)
2) Petit Poucet (Tom Thumb)
3) Laideronnette, Impératrice des Pagodes (Little Ugly Girl, Empress of the Pagodas)
4) Les Entretiens de la Belle et de la Bête (Conversations between Beauty and the Beast)
5) Le Jardin Féerique (The Fairy Garden)
William Walton – 4 movements from "Façade"
Popular Song
Swiss Jodelling Song
Tango-Pasodoblé
Foxtrot
Our lunchtime programme of piano duet music focuses on works which have been inspired by words, whether they be prose or poetry.
We begin with Robert Schumann's set of six Impromptus, Op66, "Bilder aus Osten" (Pictures from the East) composed towards the end of 1848. He was inspired by Friedrich Rückert's German translation of a set of 50 poems ('Makamen') by the 11th century Arabic scholar and poet Al-Hariri of Basra entitled "Die Verwandlungen von Abu Serug", (The transformation of Abu Serug). Schumann wrote in the preface to these works that he did not intend to translate 'specific incidents of the stories in the first five pieces', and that it was only the sixth and final piece which 'might be considered to be a reflection of the last 'Makame' (poem) in which we see the hero, Abu, end his merry life in regret and penance'. He goes on to add that 'he was attempting to express Eastern ways of artistic creation and thought in the art of music'.
More than 60 years later, in 1910, French composer Maurice Ravel was inspired by the magical world of fairy tales to compose the suite 'Ma Mère L'Oye' for Mimi and Jean, then aged 6 and 7, children of Polish émigrés living in Paris. Unlike Schumann's "Bilder aus Osten" each piece of this suite is an exquisite musical reimagining of a section or a concept from a fairy tale.
The short opening piece, Pavane de la Belle au Bois Dormant (Pavane of Sleeping Beauty), a stately dance common in Europe during the Renaissance, pays its respects to Sleeping Beauty in its elegance and delicacy. In 'Petit Poucet' (Tom Thumb), we hear as Tom searches along one path, then another and then yet another as he tries to find the breadcrumbs which he sprinkled to help him find his way out of the forest. The birds, who have eaten everything, chirp away as if to mock him. 'Laideronnette, Impératrice des Pagodes' (Little Ugly Girl, Empress of the Pagodas) was inspired by a tale called 'The Green Serpent'. It is a complicated story set in a far away kingdom peopled by tiny people (Pagodes) who play on instruments the size of an almond shell. Ravel uses the pentatonic scale to convey an Oriental feel. In fact, the top part (primo) uses only the black notes of the piano. The 4th movement, 'Les Entretiens de la Belle et de la Bête' (Conversations between Beauty and the Beast) is exactly what the title says. Both characters have their own themes which we hear separately and then together. At the end, a glissando on the piano symbolises the Beast's transformation. 'Le Jardin Féerique' (The fairy garden) brings the work to a close with a peal of wedding bells. There is no accompanying text but the ballet version which Ravel composed the following year interprets this as Sleeping Beauty being awoken in the garden by her prince.
In 1922, across the English channel, composer William Walton and poet Edith Sitwell were creating an entertainment called 'Façade'. His jazz-inspired music accompanied Sitwell's poems which she recited through a megaphone from behind a curtain! After the first private performance in 1922 Edith's brother, Osbert Sitwell wrote "as I heard the music I understood its genius, the incomparable manner in which the composer, who was not yet twenty years of age, had played with every idea, and matched, underlined and exhibited the words." For a composer who knew very little about poetry it was a huge achievement. 'Façade', which evokes all the exuberance and risqué spirit of the 'Roaring Twenties', premiered publicly in 1923 and has been part of our musical landscape ever since. This version was arranged for four hands by Walton's great friend, the composer Constant Lambert.
We begin with 'Popular Song' which became well-known as the theme tune for the TV programme, 'Face the Music', followed by the 'Swiss Jodelling Song'. Walton sneaked in a reference to Rossini's William Tell overture which caused an uproar in Siena in 1928. The Italian audience was offended that Walton had parodied Rossini whereas Walton's intention was to pay tribute to Rossini! The third piece is the 'Tango – Pasodoblé' which combines Latin-American and Spanish dance with a quotation from 'I do like to be beside the seaside' and we end with 'Foxtrot' that evokes the dancefloors of the 1920s.