Violin and piano lunchtime recital
Date: Wednesday 04th July 2018
Time: 1.10pm
Venue: St Mary's Church
Location: Church Path, Saffron Walden, Essex, CB10 1JP
Artists: Krassimira Jeliazkova - violin; Elizabeth Mucha - piano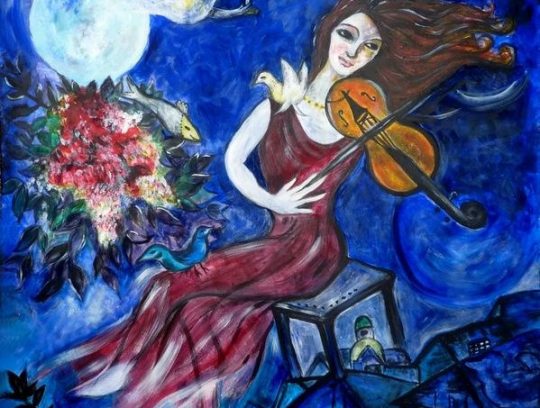 PROGRAMME
Sergei Rachmaninov                                                            Deux Morceaux de salon
Romance
Dance Hongroise
Pantcho Vladiguerov,                                                  Song from "Bulgarian Suite"
 Karol Szymanowski                                                Paganini Caprice Op 40, No 24
Theme and Variations
Igor Stravinsky                                              Divertimento from "The fairy's kiss"   
Pas de Deux
(a) Adagio
(b) Variation
(c) Coda
Leonard Bernstein                                                                     West Side Story Suite
arr. Raimundo Penaforte
I feel pretty
Somewhere
America
From Eastern Europe with love
 Eastern Europe has held a fascination for the West for many centuries. The glittering court of St Petersburg of the 1800s attracted musicians and composers as diverse as Clara and Robert Schumann, Franz Liszt, John Field, Louis Spohr, and singer Pauline Viardot. However, after the Russian Revolution of 1917, Russia's greatest talent abandoned the mother country seeking freedom to pursue their art in the West.
In this programme, we pay homage to composers whose origins were in Eastern Europe rather like our own! Violinist Krassimira Jeliazkova was born and bred in Bulgaria and although I was born in Scotland my ancestry is entirely Polish.
Possibly one of Russia's most famous musical emigrés of the 20th century, pianist and composer Sergei Rachmanivov composed his only original work for violin and piano in 1893, only one year after graduating from the Moscow Conservatory and many years before he was forced to leave Russia in 1917 because of the October Revolution. 'Deux Morceaux de Salon' may be a youthful work, but there is no mistaking the long sweeping melodies and rich harmonies which are pure Rachmaninov.
On the other hand, Bulgarian composer, Pantcho Vladiguerov is still little known outside his home country. Born in Switzerland of Bulgarian parents, he studied in Berlin and later became music director of the Deutsches Theatre there. He returned to Sofia in 1932 to become a professor of piano at the State Academy, now named after him. Like so many East European composers of that generation, he was greatly influenced by the folk music still to be heard readily then and composed several works which incorporated folk elements. The Polish composer Karol Szymanowski was another composer who fell under the spell of the music of the 'Górale', the Highlanders of Poland, in his later years. However, his transcription of Paganini's Solo Caprice no 24 was composed in 1918 at a time when his inquisitive nature led him to explore the cultures of the Mediterranean coupled with a need to create repertoire to perform with his many violinist friends.
The hugely popular music from the Musical, 'West Side Story', by American conductor and composer Leonard Bernstein ends this lunchtime concert. Descended from Ukrainian Jews, Bernstein's music though seemingly apparelled in American boldness, often reveals his sensitivity to his East European roots which are never too deeply hidden. "West Side Story", heard here in a transcription by Brazilian arranger, Raimundo Penaforte must surely sum up the quintessential story of all those who have ever attempted to make a home in a foreign land.