A CONCERT TO COMMEMORATE 1918
Date: Friday 31st August 2018
Time: 7.30 - 9.00
Venue: The Albemarle Music Centre
Location: 60 Ferensway, Hull, HU2 8LN
Artists: Violin David Johnson Cello Tania Lisboa Piano Elizabeth Mucha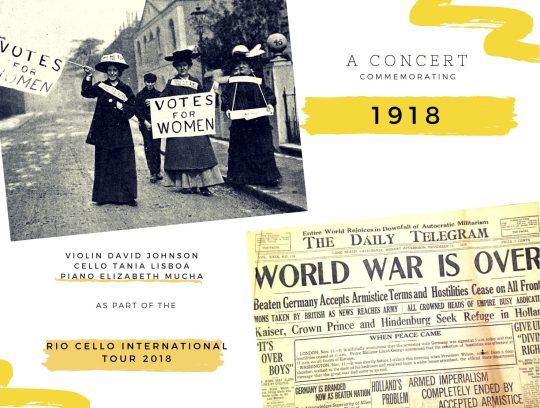 Edward Elgar                         Violin Sonata Op 82
                                                           Allegro – Risoluto
                                                            Romance – Andante
                                                              Allegro non troppo
Frank Bridge                         Cello Sonata
                                                             Allegro ben moderato
                                                               Adagio ma non troppo
Clara Schumann                    Piano Trio
                                                               Allegro Moderato
                                                                Scherzo and Trio
                                                                 Andante
                                                                    Allegretto
World War I was without doubt one of the deadliest conflicts in modern history: – not only were countless lives lost, lands ravished and countries impoverished, but as monarchies fell and Empires toppled, a way of life came under attack. For English composer Edward Elgar whose music had come to define the power and glory of the British Empire, and who had built up his own standing with the British musical establishment during the pre-WW1 years, the events of 1914-1918 were very difficult.
Composed in 1918, the violin sonata is amongst the last pieces that Elgar composed. He was in poor health and severely depressed by the Europe he saw emerging from World War I. The compositions from this period are of a more introspective and contemplative nature than that which is traditionally associated with Elgar's music.
Another British composer pouring his emotions into his music was Frank Bridge. Unlike Elgar's complex and despairing reaction the younger composer's epic cello sonata, composed between 1914 -1917 is a more straightforward guttural response to the futility and destruction of WW1.
Destruction, though tragic, clears the way for new concepts and ideas to develop and flourish. One movement that gained impetus after WW1 was the emancipation of women. We commemorate this in the programme with a piano trio by a woman who lived well before the rights of women were acknowledged officially. Clara Schumann was the wife of the famous German composer Robert Schumann. She was famous throughout Europe for her prestigious talent as a pianist. She also composed but was doubtful about her talent and wrote,
"I once believed that I possessed creative talent, but I have given up this idea; a woman must not desire to compose—there has never yet been one able to do it. Should I expect to be the one?" 
 One only has to hear her piano trio to know that it is a terrible shame that she did not compose more, as this is a gem of a work. The 1st movement shows off the poignant key of G minor to great effect. A charming sprite-like Scherzo and Trio follows. However, it is in the last two movements that she truly shows her genius. The slow 3rd movement is a beautiful example of pure Romantic lyricism and the 4th movement displays an astonishing mastery of contrapuntal techniques and highly dramatic.