Tea Dance
Date: Saturday 18th June 2016
Time: 3pm - 5pm
Venue: St Michael and All Angels Parish Hall, Bath Road London W4 1TT. Tickets £15, including afternoon tea.
Location: Bedford Park Festival 2016
Artists: SOME LIKE IT RED HOT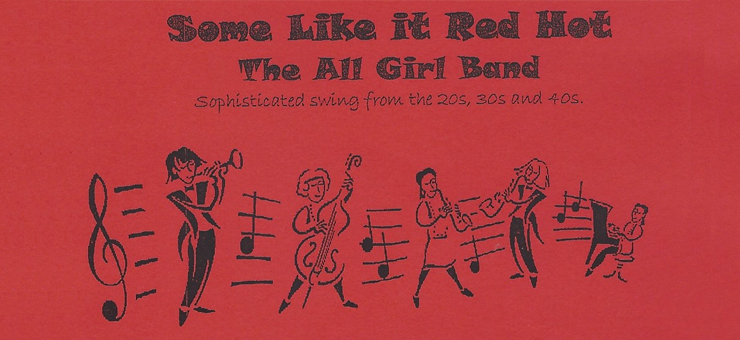 Afternoon Tea and Sophisticated Swing with "Some Like it Red Hot"
If you are tempted by tango, want to waltz or feel like a foxtrot, then dust off your dancing shoes and take part in a delightful afternoon of dancing. Or perhaps you just want to sit back and enjoy the music. Either way you can indulge in a truly delicious afternoon tea at this event.
"Some Like it Red Hot" was originally inspired by the Marilyn Monroe film and the timely inheritance of a unique and authentic music library. This specialist and professional all-female instrumental dance band presents the music of an unforgettable era: the decadent Twenties; the elegant Thirties and the wartime hits of the Forties.
I was a co-founder of the band in 1992 and the inaugural performance was at a private Tea Dance in Ramillies Road, W4, at the home of the band's original manager Jane Blanckenhagen.
Since then venues have ranged from Alexandra Palace, Ronnie Scott's, Kensington Roof Gardens, Cafe Royale, House of Commons, Institute for Government, Athenaeum Club, many major London hotels including Claridges, the Langham, the Savoy and the Waldorf, to private homes and gardens.
Clients have included Richard Branson, the BBC, Virago, "Women of the Year", the British Museum, the RSC, Glyndebourne Festival Opera, Swann Hellenic Cruises, and the band has played at events alongside Ken Dodd, Frank Carson and Ruby Wax.
find out more:
http://www.bedfordparkfestival.org/e/118/afternoon-tea-and-sophisticated-swing-with-some-like-it-red-hot