Mendelssohn Double Concerto
Date: Saturday 29th February 2020
Time: 7.30
Venue: Stapleford Granary
Location: Bury Rd, Stapleford CB22 5BP
Artists: East Anglian Chamber Orchestra Derek William -Conductor Krassimira Jeliazkova - Violin Elizabeth Mucha - Piano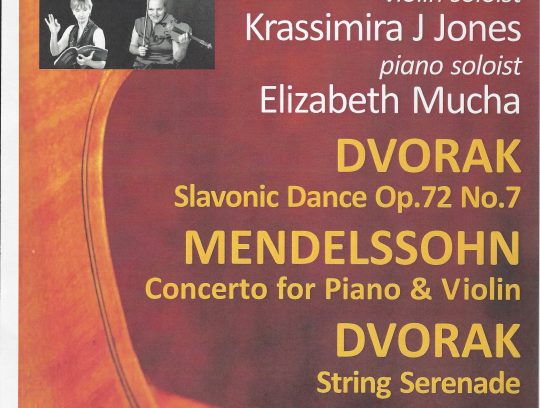 Antonin Dvorak           Slavonic Dance Op 72, No 7
Felix Mendelssohn     Concerto for Piano, Violin, and Strings in D minor, MWV O4
Antonin Dvorak           String Serenade
My violin duo partner, Krassimira Jelizakova and I are delighted to be performing the youthful and exuberant Double Concerto by Felix Mendelssohn with the East Anglian Chamber Orchestra.
Composed in 1823 when he was merely 14 years old, it is an unashamedly virtuoso display for both violin and piano. It is also an astonishing compositional achievement for one so young: within a Classical framework, Mendelssohn incorporates contrapuntal textures harking back to the Baroque music of Bach which he adored as well as soaring romantic melodies which look forward to his many 'Songs without Words' for solo piano with which his name would become synonymous.
The concerto was not published during his lifetime and it was not till the 1950s, when violinist Yehudi Menuhin discovered it, did it start to reach a wider audience. It was only in 1999 that a critical modern edition was available.
The Concerto is sandwiched by two pieces by the Czech composer, Antonin Dvorak. The concert opens with the energetic Slavonic Dance Op 72, no 7 and ends with one of his most popular orchestral works, the String Serenade. Composed in 1875, it is said that he wrote it in just 12 days. It was a happy time for him. He was in the early years of his marriage and his first son had just been born. For the first time in his life, he was being recognized as a composer. He even received a generous award from the Austrian government which brought him into contact with Johannes Brahms, who would play a very important role in Dvorak's career.