Lunchtime concert
Date: Friday 29th January 2016
Time: 1pm
Venue: St John the Baptist Church
Location: Spencer Hill, Wimbledon
Artists: Krassimira Jeliazkova and Elizabeth Mucha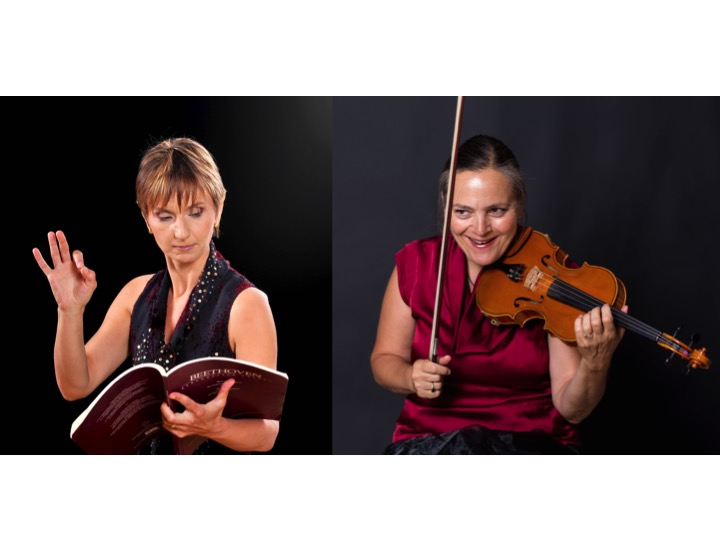 Edward Elgar                       Violin Sonata Op 8
I. Allegro – Risoluto
II. Romance – Andante
III. Allegro non troppo
Olivier Messaien                   Theme and Variations
Henryk Wieniawski             Fantasia on Themes
from Gounod's Faust, Op.20
Our lunchtime concert opens with Elgar's Violin sonata. Elgar is principally known in the UK for hits such as "Land of Hope and Glory" which, as I'm sure you've seen on the news, has been touted as a candidate for England's national anthem. However, the Elgar we encounter here in the Violin sonata is a very different man from the man who wrote the piece which is the signature tune of the Proms. Composed in 1918, Elgar was severely depressed by the Europe he saw emerging from World War I and so the pieces he wrote at this time are more introspective and contemplative. The swagger and pomp was gone!
The second piece, "Thème et variations" is by the French composer Olivier Messiaen. Composed in 1932, it was a wedding present for his violinist wife, Claire Delbos. The theme is tender and lyrical, consisting of a floating melody in the violin supported by chords in the piano. The Variations gradually increase in speed and intensity until, it seems, that they can't develop any further and the theme returns but on a cathedral-like scale. The piano is marked 'ffff' and the tempo marking is extremely slow – challenging for both instruments. The composer and conductor Pierre Boulez recalled an almost chance hearing of the Thème et variations and its impact on him: "It was enough to inspire me with an immediate wish to study with him. I felt the force of his attraction immediately, as I say, at a single hearing."  Both Krassimira and I had a similar reaction in that we both knew we had to perform this piece.
Our final piece is the Fantaisie Brilliante  by Polish composer and violinist par excellence Henryk Wieniawski. Composed in 1865, it is based on themes from Gounod's opera, 'Faust' which tells the tale of Dr Faust, who sells his soul to the devil in exchange for unlimited knowledge and worldly pleasures. It is a hugely virtuosic work and demonstrates what an extraordinary violinist Wieniawski must have been.