Art Sung – Alma Mahler
Date: Sunday 22nd May 2016
Time: 4pm
Venue: Music at Woodhouse
Location: Woodhouse Copse, Holmbury St Mary, RH5 6NL
Artists: Elizabeth Mucha - Piano Alexandra Weaver - Soprano Robert Rice - Baritone Sandy Walsh - Actress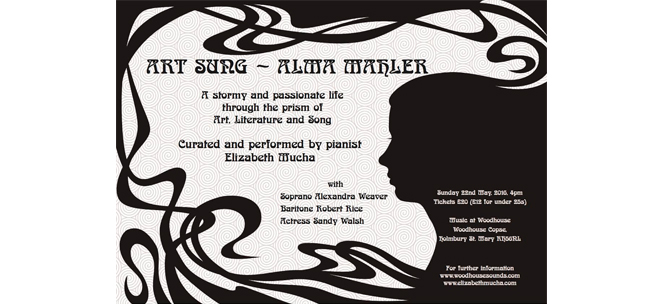 Devised by award-winning pianist Elizabeth Mucha, "Art Sung – Alma Mahler" is a highly engaging and immersive multi-media song recital, which revolves around the stormy and passionate life of Alma Schindler Mahler.
Alma's compositions are at the heart of this song recital alongside works by her teacher, Alexander von Zemlinsky, her famous husband, Gustav Mahler and the great Germanic composers, Wagner, Schumann and Beethoven. Linking this are excerpts from the young Alma's diaries, read by an actress, which give the audience a fascinating insight into Viennese life at the turn of the century as well as her own tempestuous personal life.
The backdrop to this is the projected artwork, which includes paintings by famous Viennese artists such as Gustav Klimt and Oskar Kokoschka as well as lesser well-known paintings by Fernand Khnopff, Giovanni Segantini and Alphonse Mucha. Alma would have had personal experience of many of these paintings either through her frequent visits to the Vienna Secession or, as in the case of Oskar Kokoschka's dramatic painting "Bride of the Wind", which accompanies Alma's most ambitious song, 'Hymne', as Muse.
Alma is portrayed lying with Kokoschka seemingly in repose in the midst of a whirling tempest – a fitting metaphor for a woman who, even until now, continues to provoke strong emotions.