Cello and piano lunchtime recital
Date: Tuesday 15th February 2022
Time: 1.15
Venue: St Bride's Church
Location: Fleet Street London EC4Y 8AU
Artists: Veronica Henderson - cello Elizabeth Mucha - Piano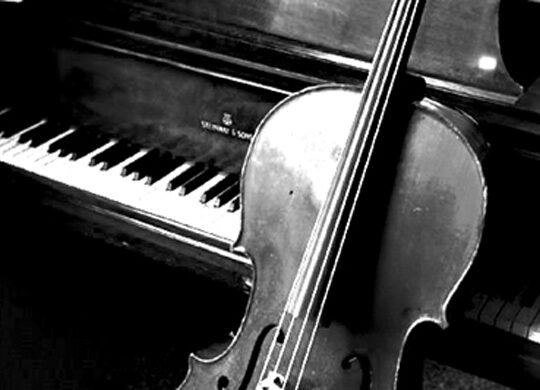 PROGRAMME
J.S Bach                                     Sonata for Viola Da Gamba, G Maj, BWV 1027
R. Schumann                          Adagio and Allegro, Op 70
B. Martinu                             Variations on a theme by Rossini
Cellist Veronica Henderson and I have known each other for most of our lives, as we both grew up in Edinburgh but had lost touch. In recent years we renewed that contact with a view to working on chamber music projects including trio work with my long-standing duo partner, Bulgarian violinist, Krassimira Jeliazkova-Jones. However, we were both keen to perform as a duo and so for our début recital we decided to programme works which nowadays are very much considered to be  standard cello and piano repertoire.
The G major sonata, BWV 1027, by the great German Baroque composer Johann Sebastian Bach was composed, however, not for the cello but for the viola da gamba: an instrument which, already in his time, was considered old fashioned. The viol family, of which the viola da gamba was the largest and which had been extremely popular during the Renaissance and early Baroque, was slowly being supplanted by the family of violins, including the cello, for their greater volume and projection. This sonata in four movements is now often performed on the cello or viola with either a harpsichord or piano accompaniment.
The second work in our programme, the Adagio and Allegro by Romantic composer, Robert Schumann, also started out life for a very different instrument – the then newly developed valve horn. During the years of 1848 and 1849, revolutions swept across Europe. Schumann found solace from this turmoil in his inner musical world. He even wrote to fellow composer, Hiller, 'This has been my most fruitful year—as if the outer storms have driven me more into myself. Thus, I have found a counterweight to the terrible things which have broken in from the outside.'
During this period Schumann experimented composing chamber works with piano accompaniment for instruments for which he had never written before: the Romanzen for oboe; the Fantasiestücke for clarinet; the Stücke im Volkston for cello; and the Adagio and Allegro for horn. However, ever with an eye on publication sales, he produced alternative versions of these works for more popular instruments such as the violin and cello. The Adagio and Allegro is now very much considered part of standard cello repertoire these days.
The final piece in our recital, the "Variations on a theme by Rossini" by Czech composer Bohuslav Martinu was most definitely composed for cello and even more specifically for the great Russian cellist Gregor Piatigorsky and was one of the first compositions completed in the US after fleeing Nazi occupied Europe in 1942.
The journey though from the initial aria from Rossini's opera "Moses in Egypt" to Martinu's witty and virtuoso variations for cello and piano makes for quite a story. The inspiration did not come directly from Rossini at all but from a variation in the famous "'Moses variations" for violin, composed by that infamous daredevil of violin playing, Nicolo Paganini. This piece is famously played only on one string – allegedly Paganini wrote them while in jail on the one remaining string left on his violin! So Martinu's compositions should really be named, "Variations on a variation from Paganini's Variations on a theme by Rossini", but that's rather long and confusing for a title – wouldn't you agree!