A trio of women
Date: Saturday 08th June 2019
Time: 12.30
Venue: Waltham Abbey Church
Location: Abbey Farmhouse, Abbey Gardens, WALTHAM ABBEY, Essex, EN9 1XQ.
Artists: Krassimira Jeliazkova Violin Veronica Henderson Cello Elizabeth Mucha Piano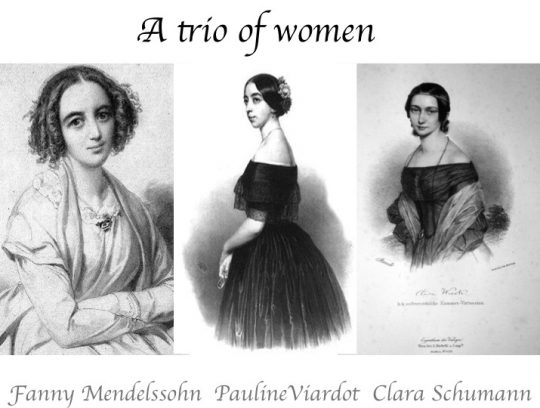 I'm very much looking forward to performing a programme of compositions by three extraordinarily talented women whose paths crossed several times during the 19th Century. The virtuoso pianist Clara Schumann, whose bicentenary it is this year, and singer Pauline Viardot had great celebrity status as performers throughout Europe. Not so pianist and composer, Fanny Mendelssohn, sister of Felix Mendelssohn, as she adhered to her family's dictum that a woman's place was in the home. However, at her Sunday matinees in Berlin her home became a Mecca for visiting artists such as her friends Pauline Viardot, Clara Schumann, the Mendelssohn brothers and violinist Joachim. One account of her describes her playing, " Just listen to Fanny play and her melancholy expressiveness…you can't help but feel the painful yearning coming out". It is precisely this 'melancholy expressiveness' interwoven with Gothic-like drama which characterize the two cello pieces composed for her brother Paul which open our lunchtime programme.
Haunting is also the adjective which best describes the first movement of the Sonatine for violin and piano by Pauline Viardot. It quickly gives way to a second movement in which her Spanish background shines through. It ends on a virtuosic but elegant note, betraying the influence of France which she regarded as her spiritual home.
Clara Schumann is perhaps best known as the wife of the famous German composer Robert Schumann but in the 19th century she was a celebrity pianist, ranked alongside pianists such as Liszt. She also composed but was doubtful about her talent and wrote, "I once believed that I possessed creative talent, but I have given up this idea; a woman must not desire to compose—there has never yet been one able to do it. Should I expect to be the one?" 
 One only has to hear her piano trio to know that it is a terrible shame that she did not compose more, as this is a gem of a work. The 1st movement shows off the poignant key of G minor to great effect. The 2nd movement is a charming sprite-like Scherzo and Trio, characterized by a 'Scotch snap'. However, it is in the last two movements that she truly shows her genius. The slow 3rd movement is a beautiful example of pure Romantic lyricism and the 4th movement displays an astonishing mastery of contrapuntal techniques and highly dramatic.
Joining me in this special concert is my long-standing colleague, violinist Krassimira Jeliazkova. I'm also delighted to finally perform with cellist Veronica Henderson as although we both drew up in Edinburgh our paths never crossed till we met again at Cambridge University as young adults. However, this is the first time that we will perform together and our debut as a piano trio.
Fanny Hensel, (née Mendelssohn)
Fantasia and Capriccio for Cello and Piano
Pauline Viardot
Sonatine for Violin and Piano
Clara Schumann
Piano Trio, G minor, Op 17