Violin and Piano lunchtime recital
Date: Tuesday 22nd May 2018
Time: 1.00pm - 1.45.pm
Venue: St Martin's in the Fields
Location: Trafalgar Square, London WC2N 4JJ
Artists: Krassimira Jeliazkova violin Elizabeth Mucha piano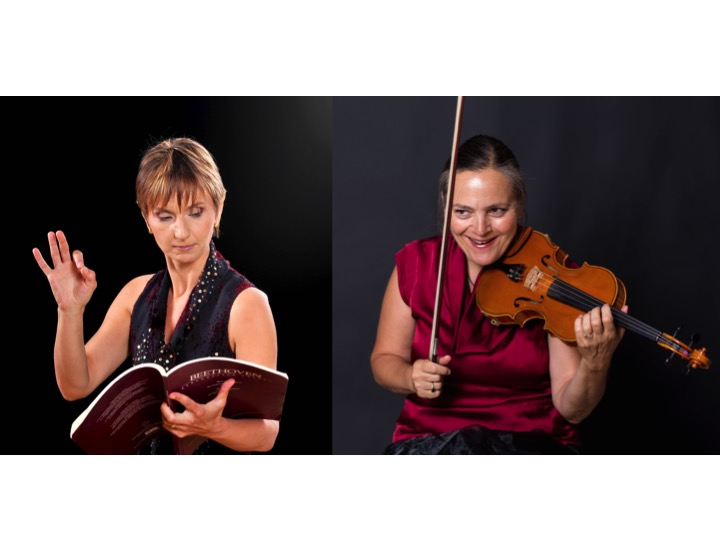 Franz Schubert
Arpeggione sonata, D821
William Walton
Two pieces for violin and piano
Canzonetta and Scherzetto
Pantcho Vladiguerov,
Song from "Bulgarian Suite"
Mario Castelnuovo – Tedesco
Concert transcription of "Largo al factotum" from Rossini's opera, "The Barber of Seville"
TRANSFORMATIONS
Composers throughout musical history have turned for inspiration to the compositions of others, often effecting a total transformation in the process.
Our programme, however, opens with an original work but with an interesting story.
Schubert's 'Arpeggione Sonata" was composed originally for the 'Arpeggione', an odd hybrid instrument, strung and fretted like a guitar, but bowed like a cello. Its heyday was in the 1820s in Vienna and by the time Schubert's sonata was published in the 1870s, the Arpeggione instrument had all but disappeared. Luckily this gem of a sonata continues to live on having been adopted by several instruments, including the violin.
For a composer widely associated with the grand music he composed for several WW2 films and the "Crown Imperial" March composed for the coronation of King George IV, the English composer, William Walton, was in fact extremely open to incorporating very diverse styles into his compositions. The inspiration for the "Canzonetta" is a 13th century troubadour song and Walton weaves a beautiful haunting tapestry of sound around the melody. The "Scherzetto" has a witty, almost jazzy quality more in keeping with his famous entertainment, "Façade".
Considered to be one of Bulgaria's most influential composers, Pantcho Vladiguerov was one of the first to successfully combine idioms of Bulgarian folk music and West European classical music. The "Song" from his "Bulgarian Suite" is arranged in an expansively lush manner while still adhering to its folk roots.
The final piece of the programme is Italian composer Mario Castelnuovo-Tedesco's adaptation of the aria, "Largo al factotum" from Rossini's opera "The Barber of Seville". This revels in a whimsical reinvention of the original aria and, as it was composed for the great violin master, Jascha Heifetz, it is not surprising that it makes great technical demands on both violinist and pianist.