ART SUNG – ALMA MAHLER
Date: Monday 04th July 2016
Time: Drinks at 7, concert at 7.30
Venue: Queen's Gate Terrace Concerts
Location: 49 Queen's Gate Terrace, London SW7 5PN
Artists: Sandy Walsh - actress Alexandra Weaver - soprano Robert Rice - Baritone Elizabeth Mucha - Piano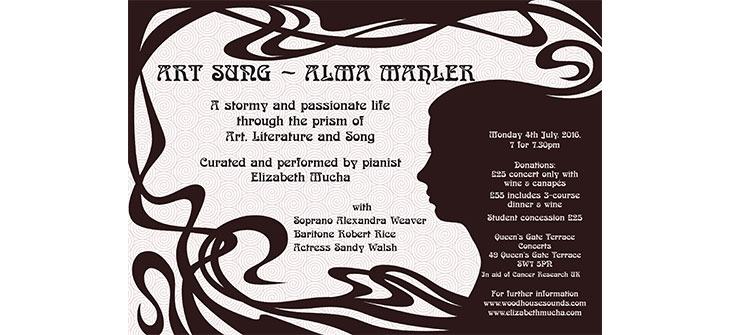 I am delighted that Monika Saunders of "Music at Woodhouse" has invited us to perform 'Art Sung – Alma Mahler' in South Kensington at the home of Sir Vernon and Lady Hazel Ellis on Mon 4th July at 7.30pm. All proceeds of this performance will go to Cancer Research UK.
 "How beautiful she was, and how seductive she looked beneath her mourning veil! She enchanted me!"
So wrote the Austrian painter Oskar Kokoschka about Alma, the young widow of the celebrated composer and conductor Gustav Mahler. The story of her stormy and fascinating life is told in 'Art Sung – Alma Mahler', a highly engaging and immersive multimedia song recital, which combines the rich world of Lieder with a kaleidoscope of visual and spoken material.
Alma's legacy till now has rested mainly on being muse, compliant wife and lover to many prominent men of the early 20th century. However, after reading her diaries, I discovered a well-read, creative young woman, an excellent pianist and composer, whose tumultuous life can be shared with today's audiences through music, art, and readings from her diaries.
Alma's own songs are at the heart of this recital, alongside compositions by her husband, Gustav Mahler, her first teacher and lover, Alexander von Zemlinsky and the great German composers Wagner, Schumann and Beethoven.Artwork by artists of the Vienna Secession, such as Klimt and Kokoschka, as well as other images from the period, accompany the songs.
Arrangements:
The concert is at 49 Queen's Gate Terrace, London SW7 5PN, starting with drinks at 7:00 followed by the concert at 7.30pm.
Concert followed by optional buffet supper..
Booking is by email to vernon@vef.org.uk.
Charitable contribution is £25 per person with drinks & canapés, or £55 if you would like to stay for supper.
Cheques to be made payable to 'Music at Woodhouse' and sent to:
49 Queen's Gate Terrace, London SW7 5PN.
For further details, please email vernon@vef.org.uk